The participants were able to identify different resources in their communities.To each resource they were able to get symbols for each. For example for information, they used a radio, for money, they used and coin.
Each participant was able to vote on which resources they have access to and those that they did or did not have control over.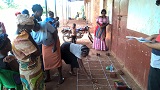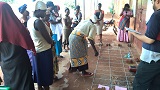 We were able to count and score the results. From our scoring, it was noticed that most of the people had access to the resources but few had control over the resources.
Participants gave reasons of the process and how they gain access to the resources. Consequently they also gave reasons why they have less control over the resources. Those who have control also clearly explained to the group how they have been able to get control over the resources.
The participants also brain stormed on the strategies that we can adopt in order to increase access and control over the resources within our communities