School: Bishnu Secondary School
Address: Bagnaskali Rural Municipality, ward 2, Pokharathok, Palpa
Situation before:
School had two roomed toilets but there was no separate toilet for girls and boys (both were using the same toilet).

There was no enough water in the toilet, and it was very dirty and smelly. And, boys used to pee outside of the pan in the toilet.
Door was also not maintained, and it was hole. When girls go for the toilet; boys used to look through the hole and tease girls.
To avoid using the toilet; girls didn't drink water as far as they can. Due to the dehydration; girls were facing problem of urine infection.
When girls were menstruating, they don't want to use the toilet rather they go home early to use toilet.
Our effort / Process
When community score card was practiced in the community; the issue of poor and unhygienic toilet was found, and the need of girl's friendly toilet were raised.

The priority was given to construct girl's friendly toilet in the school jointly with concerned stakeholders.
The local partner of AAN also supported with 49000 to the plan of school, municipal ward office supported with 70000, school contributed 20000 and with the total cost of 1,39,000 the plan of constructing toilet was made.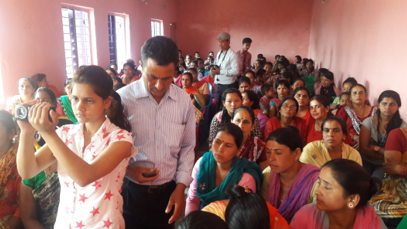 Immediate change:
4 urinal and 2 separate roomed toilets for girls were constructed
Managed the enough water in the toilet, the water tank and tap were installed.
For the girls, bin to throw sanitary pad, mirror, soap and towel were made available in the toilet
Rajani Bhitriya, student of class 10 says, before the toilet was very dirty, and boys and girls were using the same toilet. So due to shy I used to miss the class of 3-4 days during the menstruation. But after having the proper toilet and sanitary pad, I now come to school regularly. My friend Soniya was also facing the same problem.
The member of SMC, Narayani Khanal also says, my daughter used to miss the class during the menstruation but after constructing the girl's friendly toilet, she goes school regularly.
The Ambika Bhattarai (gender focal person of school) says; after having the girl's friendly toilet, without hesitation, girls asks for sanitary pad and use it.