Report card (for documenting issues)
To document issues, identifying who is impacted and how and who is responsible.
This documentation tool was designed as part of the Safe Cities Urban Book process. However, it could easily be adapted for use with other topics.
Steps
Look at all the red areas on the Urban Safety Map and identify issues

that contribute to unsafe areas.

List these issues.
Identify who these issues impact
How are these people (their safety)

impacted by the issues

What public services are these issues linked to - identify them
Fill in the matrix
Repeat this process for the amber

(semi-safe) and green (safe) areas identified on the urban safety map.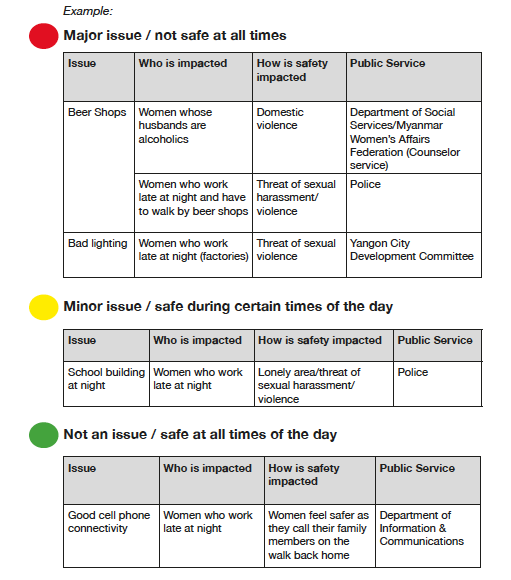 Suggestions for use
A similar matrix could be used to explore safety within a school or in a rural community, for example. In a rural area the safety issues might emerge in relation to particular activities, collecting water or fuel wood, for example.
Resources
Resources
Here you can download some useful resources.
We have used this tool or method
Used in these toolboxes