Community meetings - monitoring
To enable community members and other stakeholders to meet regularly to monitor progress towards agreed goals and are able to identify and tackle challenges.
Steps
Conduct monthly meetings to

monitor progress towards action plans

Monthly meeting organised and

facilitated by community volunteers

Based on issue to be discussed,

volunteers to invite key government authorities and those community members to who are impacted by the issues to discuss progress, challenges and solutions, etc.

Meeting minutes to be documented, for example using the template below.

Positive changes that have been observed as a result of the project or programme should also be documented (see example B below).
Documentation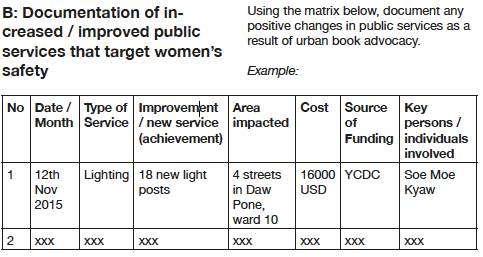 Resources
Here you can download some useful resources.
We have used this tool or method
Used in these toolboxes